Book Readings and Author Signings
Posted by TammyJo Eckhart | 5 June 2010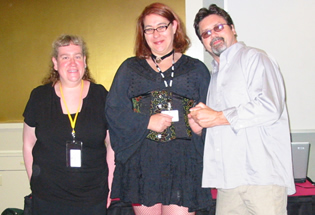 I love reading my fiction to a live or online audience. I love connecting in a personal way with each listener through my words. I love watching the reactions as I read, transporting each audience member into another world, one they may not even know they wanted to visit until I started reading.
While my fiction may be classified as erotica, my readings have entertained all orientations and all sexual categories who enjoy the genres I write in. As you will see below, I've been honored to do this many, many times, but I'd still love to do a reading for you and your group.
Have a club, group, munch, or event that is looking for an author to share her work? Send me an e-mail at and we can talk about it.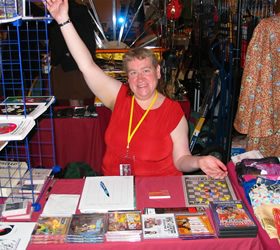 I do not charge a fee for my participation, but let me be honest — I'm not rich either. I do require that my admission (and that of my assistant) to your event be covered. He is quite knowledgeable himself and can serve on panels as well. I also ask that you offer me a chance to sell my books during the event. Events that can also offer me some coverage for travel expenses like gas or flight are greatly appreciated. Send me an e-mail for arrangements.
Lectures, Panels, and Discussions
I've been giving lectures, serving on panels, and hosting discussions at various conventions through the years. The teacher in me loves to reach out to people in this way, sharing some knowledge I have gathered in my 20+ years of writing and my 18+ years in the Scene. The student in me loves to exchange ideas with others in these forums, learning a bit more than I did when I first walked through the door. The idealist in me hopes that others have benefited from the things I do.
Have a convention that is looking for a speaker, panelist, or discussion leader? Send me an e-mail at and we can talk about it.
As with readings and signings, I don't charge a fee, but I do ask for admission waivers for myself and my assistant, and the space and opportunity to sell my books. Coverage of incidentals such as gas are greatly appreciated.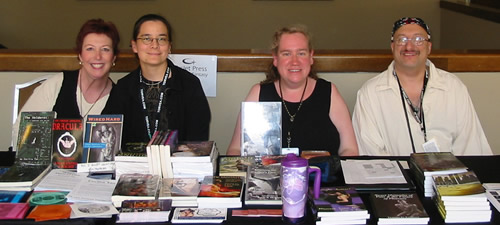 Beyond 50
This is something I am involved with, participating in events at both Inconjunction 2015 and Imaginarium 2015.
In the words of our founder, Laura Antoniou:
The highly anticipated film adaptation of Fifty Shades of Grey will hit theaters on Valentine's weekend, 2015. Millions of readers around the world have already been caught in the magic and romance of power and surrender, role-playing and kinky passions. Or, as some call it — BDSM.

But did you know there's a wealth of BDSM themed literature and media available now and coming soon, just waiting for you to discover?

Sensual romances. Gritty thrillers. Spell-binding fantasy. Darkly passionate suspense and horror. Dramatic historical adventures. Edgy erotica. Gorgeous art and photographs. Honest memoirs. From short stories to long novels, from subtle and light to explicit and nasty. Even helpful and sexy non-fiction to help bring your more risqué thoughts to life!

No matter what your interest, there's a world of other authors ready to give your imagination a tasty turn. Whether you want only one style and theme or care to delve into a whole universe of passion, romance, danger and delight, you can find something just to your taste. All sexual identities and orientations and any match-up between them can be found in some of these scorching pages – and some you've never even heard of.

Be daring! Visit with us for a while: Beyond 50 Click some links. Read some reviews, or excerpts. Have fun! Come back later for more suggestions, more options, more racy reading designed for your personal pleasures. And if you want even more, check the calendar for events in your area and come out to actually meet some authors! Listen to their highly improper readings. Or snatch up some new stories for that naughty reader in your life and maybe you'll be inspired to go ?to #?Beyond50? on Facebook for a good long time...
Convention Memories
To view bonus content of my convention experiences, including a close encounter with Richard Hatch (Capt. Apollo from the original "Battlestar Galactica" television series), please click here.
Roleplaying Game Storyteller
For several years at Inconjunction, I have run chapters of a roleplaying game based in the World of Darkness using the Ghoul: Fatal Addiction setting. If your convention is looking for folks to run games such as this, please let me know!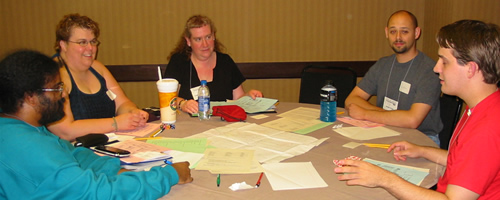 More About My Ghoul: Fatal Addiction Series
The episodes so far are as follows and more will be developed as I return to future conventions. Every new convention I run this RPG at starts at the beginning of the series.
"Hidden in the Light of Day"
A murder mystery, first played at Inconjunction 2006
"Important Impressions"
Parties and politics, first played at Millennicon 2008
"Possessions"
Protection is what ghouls are for, first played at my birthday in 2008
"Truth in Lending"
Political favors through the bodies of ghouls, first played at Inconjunction 2009
"Survival Lessons"
To be revealed at Inconjunction 2010
The end-story is called "Old Secrets" and will be run whenever I grow tired or must move to a region where I can no longer attend a convention.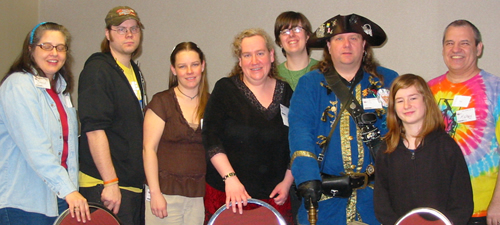 Disclaimer — this game is for adults, as it features mature language and content.