How I Got My Start: Circlet and Cecilia
Posted by TammyJo Eckhart | 5 October 2017
The following essay was written as part of the 25th anniversary of Circlet Press, my first publisher.
Circlet Press started me down the path toward becoming a published author, but more importantly, down the path of self-acceptance.
I met Cecilia Tan, founder and publisher of Circlet Press, back in the mid-1990s at an erotica reading night hosted on the campus of Columbia University by Conversio Virium, a kink group I helped form and served for three years. I met Laura Antoniou at the same event. At the end of the reading, I approached Cecilia and asked permission to submit a story for her publishing house. I didnít yet know about the formal processes of submitting work, but I followed her directions and submitted my first piece of fiction for pay.
I was so thrilled when the story I sent was chosen for inclusion in the 1995 anthology, S/M Futures: Erotica on the Edge. My story, ďOne Day in the Life of the Landfords,Ē was the first in that collection. It was a story inspired by the rise of more evening news documentaries that examined a case or an individual for 1-2 days, an example of the writing challenges I often set for myself. I felt empowered by the belief that my work was strong enough to be put in that position.
In the next few years when people asked me to read that story out loud I relived that feeling of signing a contract and holding that book in my hands again and again.
Most publishers might have tried to keep a new author to themselves, but not Cecilia. I felt motivated when she suggested that I send more of my stories to Richard Kasak, who at that time was the head of one of the big erotica publishing houses right there in New York City. I emailed him and mentioned Cecilia in the letter. He asked me to send him what I had, so I sent him three stories I felt were finished. He invited me down to his office to talk. Kasak published my first two books.
I eventually went on to do books with Greenery Press and other publishers, too. I didnít forget Circlet, though, and they didnít forget me. Iíve been in two other Circlet anthologies, Iíve had a few microfictions on their website, and they published my trilogy, Beyond the Softness of His Fur. Cecilia also wrangled me an invitation to speak at Frolicon and let me bunk with her in the hotel. I have always felt that I could reach out to Cecilia and my editors at Circlet for advice.
Through the 20+ years Iíve been published, Cecilia has continued to encourage me. They were never angry at me for turning to other publishers, even when doing so turned out to be a big mistake. In fact, after my work appeared in vampire erotica anthologies, Cecilia told me that I should look for an agent, because my work deserved a bigger potential audience. I think she and my editors at Circlet would have published the book, but I took her advice, and Iím still waiting for some publisher to have the courage to take it from my agentís hands.
Cecilia might not have looked much like me, and our backgrounds were different, but when I heard her read, when I read her work, and when I talked with her, I found something very important: acceptance and diversity. The mid to late 1990s was a cooperative mixture of kinky folks as various clubs and organizations in the city shared educational materials, went to each othersí events, and were just plain friendly with each other. But stereotypes existed, particularly in the porn that was coming out. My writing, my life, didnít fit neatly into that femdom stereotype.
Circlet Press was not and is not only a fantasy and science fiction publisher, but it actively looked for an array of sexualities, genders, races, ethnicities, and almost any other category a person might be defined as in the stories it puts out and the authors who create them. The bravery of Circlet was crystal clear to me when they accepted my idea for a trilogy about a future where animals have been genetically modified and trained to be slaves to humans. The story isnít about animal abuse; it is about what truly makes up humanity, and the power of love to create heroes willing to risk it all in the face of corruption at the highest levels. A less courageous publisher would have sent the idea back in disgust.
Circlet Press had the strength to take on Beyond the Softness of His Fur. They also had the kindness to give me time to recover from an injury and my motherís death, extending the deadlines for the trilogyís second and third books. My editor, Bethany Zaiatz, gave me good feedback that I know improved the trilogy. Beyond that, Bethany and Cecilia have both continued to encourage me as a writer. That means more than large royalty checks (though naturally those would be welcomed as well!).
I continue to read and enjoy Circlet books because I feel like I learn something new every time, while at the same time I feel reassured that it is okay to be me. I know if you read their books, youíll feel the same way no matter who you are. It is always difficult to imagine a new world without role models. Even those of us with good imaginations are influenced by what we see, hear, and experience. I get a lot of my world-crafting from my study of history. To reach more people, I need help from editors and publishers who also know that fiction has the power to encourage and educate as well as arouse.
Convention Memories
Posted by TammyJo Eckhart | 5 June 2010
Midwest Alternative Realities Convention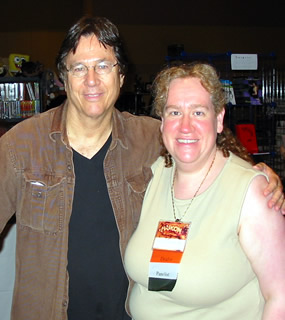 I had my first serious fangirl moment at any science fiction convention at MARCon 45 (May 28-30th, 2010). I met Richard Hatch who was kind enough to chat with me and get a photo with me. He even took a copy of The Chocolate Cult card but I don't expect him to visit there since I'm sure he's very busy.
I grew up watching so much science fiction on television because some of it could slip by my strangely conservative mother. So I remember him fondly from the original "Battlestar Galactica" but he's done a ton of work as an actor, producer, director, and writer. Thanks, Mr. Hatch, for giving me my first fangirl moment!
The theme of MARCon 45 was "Necropolis" so one of the panels I sat on was entitled "The Erotic Side of the Undead". Sitting on the panel with me (starting from my left) are fellow authors Rosemary Laurey, Denise Verrico, and David Wyatt. David was also on the "Erotica Readings" panel with me.

While the blurb for the panel mentioned vampires, we had a great interactive audience who wanted to know what other undead could be erotic. Obviously ghosts can be erotic but we struggled with the tiny trend of trying to make zombies erotic.