Online Connections
Posted by TammyJo Eckhart | 28 September 2013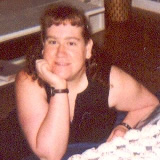 In the past year, I've added myself to several social networking sites that you might be interested in. If you add me as a friend or buddy or follow me to these various sites, please do not be offended if I don't return the favor. I have a lot to do, but I will try to connect with as many of you as I can.
| Site | Notes |
| --- | --- |
| | If you want to see me use my skills as an author for something completely different, visit my humble cult where I post about one of my favorite things, chocolate, in both a fun and serious fashion. I post about 2-5 times a week. |
| | I visit about every other day. |
| | I check once or twice a day, put up important updates. |
| | I visit every day. |
| | My Google+ profile. |
| | My Instagram account as The Chocolate Priestess. |
| | Run by folks I know and respect in the real life communities around me. |
| | I check in once a day, put up important updates. |
| | My Pinterest account. |
| | My StumbleUpon account. |
| | I do live readings of my fiction and host a weekly discussion group. Interested in participating? Contact my avatar JodiAnn Saphir so I can add you to my group announcement list. Sorry, I don't just add folks to my friends list — you have to get to know me first. |
| | I post once or twice a day. |
I look forward to seeing a lot more of you folks on these online communities. So go ahead and follow me or add me or contact me. I promise not to bite...unless you beg really well.
The Chocolate Cult
The Chocolate Cult is dedicated to the exploration and ecstasy of chocolate. The Chocolate Priestess (yours truly) will lead "Saturday Sacraments" by taking the reader through the experience of one type of chocolate or one company's offering described in all five senses.
Other postings will review other types of chocolate and related products and events, along with thoughts about chocolate in the news and culture under various headings that you can find on the side menu.
The food magazine Spezzatino recently published an article featuring an interview they did with me about the Chocolate Cult.
Gifts of Appreciation
These are gifts people have given to me for my work as an author or roleplaying storyteller. If I've done anything which has inspired you, please let me know and I'll add it to this page!
Gift
Description

Here we have three characters from the "Palace of the Keys" online roleplaying forum, drawn by Casey who plays Jonar, the 'Pain Key' (a character that I designed for her). My character, Hunter, was a midwestern Leather Daddy and physics professor who stayed an entire year at the Palace. From left to right in the image: Shea, the 'Turquiose Key', Jonar, and Hunter. Sadly, Shea's player had to leave the game and I've since lost contact with her.

This is a rendering of Nita the Gangrel Ghoul, who was played in my Ghoul: Fatal Addiction game at Inconjunction 2009 by Tatsuhoshi — who did a great job in playing the role as well as capturing the eco-terrorist/human pet essence of the character!

I received this 'Truffle Cone' by Godiva Chocolates from Rune, another participant in my Ghoul: Fatal Addiction game at Inconjunction 2009. He played Lennor, the Ravenos Ghoul very well with a charming southern accent. I was amazed when he gave me this gift the next day — it honestly made me cry, I was so touched that someone appreciated the experience so much.

I'll be describing my enjoyment of the Truffle Cone further at The Chocolate Cult
Mutual Appreciation
If you'd like to do a link exchange, please contact me at and we can discuss adding your link here upon the next update.
Authors
Mistress Lorelei, author of The Mistress Manual, a classic introduction to female dominance.
Daune Gundrum, an author and advocate.
Businesses
Candy Critic is a fun little corner of the Internet all about candy, chocolate and just about any other kinds of treats we can find. The site has all kinds of reviews, articles, blogs, and even a few free giveaways.
Uranian Fiction is home to fellow freelance author, Miriam Pia.
If you'd like to advertise here, .